Dr. Dernisky and her caring and committed team of dental professionals deliver excellence in dental care and patient comfort during each and every appointment.
We ensure that every aspect of your dental experience is positive and that you receive the absolute highest quality care available. We work WITH you, to help you achieve optimal dental health and an attractive smile. We listen to you because we care.
If there is ever anything that we can do to make your time with us easier, just tell our team. Your comfort and peace of mind are a top priority with us.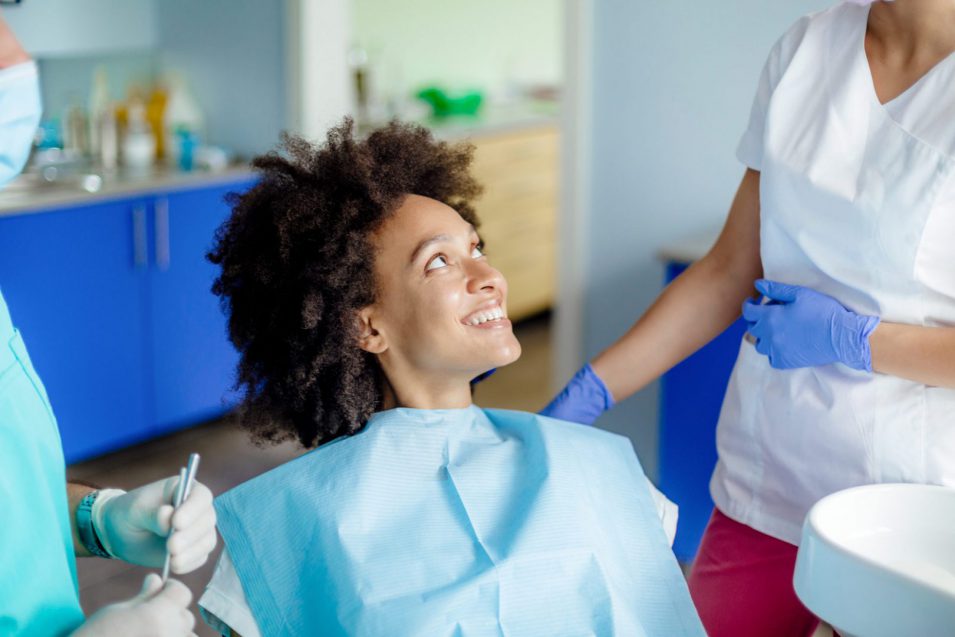 Dr. Andrea Dernisky
General Dentist, Owner
The tri-cities has been home for Dr. Andrea K. Dernisky since 2008, a community she is proud to live in and serve while raising her three beautiful children, Arshan, Aran and Arya. Born and raised in Surrey, British Columbia, she spent five wonderful years in the Annapolis Valley in Nova Scotia and returned home to complete her Doctor of Dental Medicine from the University of British Columbia. She immediately started her own practice here in Suter Brook Village with a keen eye to expanding her scope of cosmetics and orthodontics within her family practice. Currently, she is one of only three Diamond GP Invisalign providers in British Columbia and has successfully transformed over 750 smiles over the past decade. By far her greatest accomplishment has been the genuine relationships established, and laughs shared, between her team and the thousands of patients that have come to be part of our extended family.
Andrea's fundamental belief is that when we establish a strong foundation, teeth will behave better, require less dental work, and ultimately last longer. She is passionate about educating her patients with help of 3D visualization tools, highlighting each person's unique factors that have precluded them from obtaining optimized oral health. With the patient's unique set of values, functional and cosmetic goals in mind, she strives to develop comprehensive treatment plans that will leave them delighted with the outcome. Andrea then uses a myriad of restorative options ranging from chairside fillings and veneers to crowns and bridges to give each patients a smile that allows us to achieve our collective core goal – creating healthy, confident smiles for every patient.
Anyone who knows Andrea, is acutely aware of her love for people and for her chosen profession. To this end, she never stops pushing the envelope further. Whether it is through mentoring colleagues alongside her partner, being an active member on the board of directors of the American Academy of Clear Aligners, lecturing on the perils of malocclusion, or helping trial and develop new technologies with Dr. David Penn to better serve the changing needs of her patients, her passion for dentistry and helping others has no bounds.
Dr. Irwind Bhatti
General Dentist
Dr. Bhatti received his Bachelor's of Dental Surgery in Cairns, Australia or also known as "the land down under." Irwind has a background of working in rural and Indigenous communities focusing on all aspects of dentistry. He has obtained certification in Oral Sedation and Nitrous Oxide, which helps patients who are nervous become more relaxed in the dental chair. He also is an active member of the British Columbia Dental Association and continues his efforts to provide dental education to the community. Dr. Bhatti focuses his work on dental fillings, crowns, root canals, tooth removal, and most importantly, preventative care. He prides himself in doing work that is honest and thorough. When Dr. Bhatti is not at work, he spends his time working out, spending time with family, and helping coach at his local highschool. He is a strong advocate in providing guidance and information to the youth in the city. Whether it comes from coaching basketball teams, or working on his own podcast, Dr. Bhatti is a pleasure to be around!
Dr. Shuang Lin Zhu
General Dentist
Dr. Zhu obtained her Doctor of Dental Surgery Degree from the University of Toronto. Dr. Zhu is a member of the College of Dental Surgeons of BC and the Canadian Dental Association. She was also the Vice president of the Student Professionalism and Ethics Association (SPEA) and was invited to speak at the American Dental Association Annual General Meeting. Dr. Zhu also represented the Toronto SPEA Chapter to compete in the International SPEA Challenge, where she took home the Most Improved Chapter Award.
Dr. Zhu has received other prizes, including the Davis Orthodontic Prize from the University of Toronto and the President Award from McMaster University. Dr. Zhu is very enthusiastic about learning and improving her skills. She has treated medically compromised patients at Toronto's St. Michael's Hospital, Toronto Mount Sinai Hospital and Toronto Sick Kids Hospital.
Dr. Zhu practices all aspects of general dentistry and enjoys doing root canals, restorations, crowns, dentures and extractions. Her gentleness and friendliness always make the patients comfortable and relaxed. Dr. Zhu treats all patients like family and strives to bring the best care to everyone.
What Our Clients Have To Say
Years ago I came to Suter Brook Dental because I wasn't happy with my previous dentist. I am so glad I did. Everyone here is so professional. From booking an... read more appointment to treatment, everything is perfect! Thank you, Suter Brook Dental.

Anne Uebbing


August 11, 2021

I've been coming to Suter Brook Dental for as long as I can remember. I actually look forward to my appointments because the staff is so nice and comforting. I... read more even moved to New Westminster but I still travel to Port Moody because they're worth the trip. My dad was also a patient of theirs and when he passed away, they actually sent me a beautiful bouquet of flowers! That meant so much to me. It's little things like this that make this such a great office and I highly recommend them if you're in the market for a new dentist.

Kayla Ziefflie


February 28, 2021

I've been a client at Suter Brook dental since the beginning. Andrea and the entire team are an amazing group of professionals. They are all extremely knowledgeable and skilled and... read more I always have a fun experience when I visit. I would 100% recommend them to anyone looking for a Dentist. Suter Brook Dental Group has to be one of the best dentists in all of Tri-Cities in my opinion! 🙂

Carleen Ferguson


December 7, 2020
When was your last visit?
Take Care Of Your Oral Health & Book Your Dental Hygiene Appointment Today.