Dr. Dernisky and her caring and committed team of dental professionals deliver excellence in dental care and patient comfort during each and every appointment.
We ensure that every aspect of your dental experience is positive and that you receive the absolute highest quality care available. We work WITH you, to help you achieve optimal dental health and an attractive smile. We listen to you because we care.
If there is ever anything that we can do to make your time with us easier, just tell our team. Your comfort and peace of mind are a top priority with us.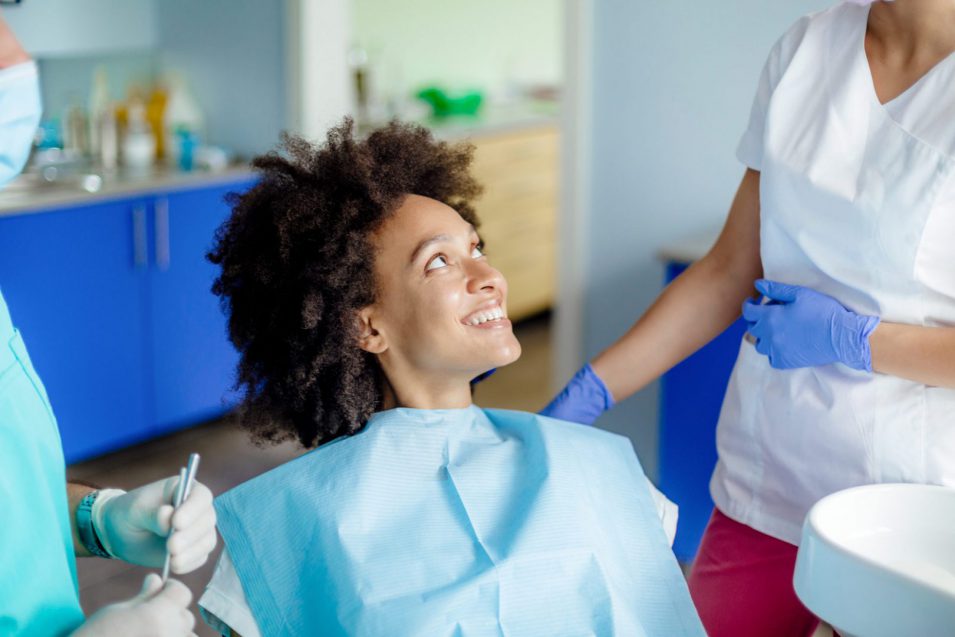 Dr. Andrea Dernisky
General Dentist, Owner
The tri-cities has been home for Dr. Andrea K. Dernisky since 2008, a community she is proud to live in and serve while raising her three beautiful children, Arshan, Aran and Arya. Born and raised in Surrey, British Columbia, she spent five wonderful years in the Annapolis Valley in Nova Scotia and returned home to complete her Doctor of Dental Medicine from the University of British Columbia. She immediately started her own practice here in Suter Brook Village with a keen eye to expanding her scope of cosmetics and orthodontics within her family practice. Currently, she is one of only three Diamond GP Invisalign providers in British Columbia and has successfully transformed over 750 smiles over the past decade. By far her greatest accomplishment has been the genuine relationships established, and laughs shared, between her team and the thousands of patients that have come to be part of our extended family.
Andrea's fundamental belief is that when we establish a strong foundation, teeth will behave better, require less dental work, and ultimately last longer. She is passionate about educating her patients with help of 3D visualization tools, highlighting each person's unique factors that have precluded them from obtaining optimized oral health. With the patient's unique set of values, functional and cosmetic goals in mind, she strives to develop comprehensive treatment plans that will leave them delighted with the outcome. Andrea then uses a myriad of restorative options ranging from chairside fillings and veneers to crowns and bridges to give each patients a smile that allows us to achieve our collective core goal – creating healthy, confident smiles for every patient.
Anyone who knows Andrea, is acutely aware of her love for people and for her chosen profession. To this end, she never stops pushing the envelope further. Whether it is through mentoring colleagues alongside her partner, being an active member on the board of directors of the American Academy of Clear Aligners, lecturing on the perils of malocclusion, or helping trial and develop new technologies with Dr. David Penn to better serve the changing needs of her patients, her passion for dentistry and helping others has no bounds.
Dr. Ahmed Juboori
General Dentist
Dr. Juboori was 10 years old when he knew dentistry was what he wanted to do when he grew up. In Egypt, he was able to follow his dream at Misr University for Science and Technology. Spending one year doing a postgraduate residency in a university hospital and excelling in his training – while training simultaneously in three private dental clinics – Dr. Juboori gained extensive experience in all aspects of dentistry  (particularly dental surgery). Dentistry is a passion for him.
This passion drives his energy into giving his patients an excellent experience in the dental chair. Dr. Juboori cleared his NDEB equivalency exams at both the University of British Columbia and the University of Saskatchewan to become a licensed general dentist in Canada. He is a registrant of the British Columbia dental Association and the College of Dental Surgeons of BC. Dr. Juboori is a lifelong learner. While he's not in the office doing what he loves most, you can find him attending a course or a conference to further his knowledge and enhance the quality of dental care he provides to his patients. Outside of dentistry, he may be found on a hiking trail, in the gym, bungee jumping in Whistler or on a jet ski on one of the beautiful lakes in British Columbia. He enjoys travelling, playing soccer, video games, driving and spending quality time with family and friends.
Dr. Kiani 
General Dentist
Dr. Kiani grew up on the North Shore where she was a swimming instructor and lifeguard during her teenage years. She then attended the University of British Columbia to pursue a Bachelor in Kinesiology & Health Sciences followed by a Doctor of Dental Medicine (DMD).
Dr. Kiani exudes warmth and kindness to everyone around her, and is a natural fit to our family-oriented practice. She has a zest for life and an authentic love for human connection that makes her an incredible asset and advocate for our patients. Dr. Kiani is passionate about providing comprehensive, preventive care for her patients, and takes strides to individualize each patient's care based on their own unique values and circumstances. Although she has great interest in cosmetic pursuits, Dr. Kiani is happy to provide a full range of services to all patients and every age group.
Dr. Kiani believes in being a lifelong learner in dentistry and values continuing education so she can provide her patients with the most up-to-date, modern services available.
In her spare time, Dr. Kiani enjoys rock climbing, swimming, playing drums, and spending time with her family, friends, and two cats.
Dr. Bhatti
General Dentist
Dr Bhatti received his Bachelor's of Dental Surgery in Cairns, Australia or also known as "the land down under. " Irwind has a background of working in rural and Indigenous communities focusing on all aspects of dentistry. He has obtained certification in Oral Sedation and Nitrous Oxide, which helps patients who are nervous become more relaxed in the dental chair. He also is an active member of the British Columbia Dental Association and continues his efforts to provide dental education to the community. Dr Bhatti focuses his work on dental fillings, crowns, root canals, tooth removal, and most importantly, preventative care. He prides himself in doing work that is honest and thorough. When Dr Bhatti is not at work, he spends his time working out, spending time with family, and helping coach at his local highschool. He is a strong advocate in providing guidance and information to the youth in the city. Whether it comes from coaching basketball teams, or working on his own podcast, Dr Bhatti is a pleasure to be around!
Dr. Felix Zhang
General Dentist
Dr. Zhang completed his first dental degree in 1988 and went on to receive a Master's degree in Oral Surgery in 1991. He worked for five years as an Oral Surgeon in China before moving to Canada in 1996. He obtained a PhD in Oral Health Sciences at the University of British Columbia in 2000 and a second dental degree (DDS) from the University of Alberta in 2005. He worked as a surgeon in Calgary for five years before moving to Vancouver in 2010.
He is currently operating out of multiple practices in the lower mainland as a general dentist who has limited his scope of practice to tooth extractions (with and without IV sedation).
What Our Clients Have To Say
This is the best dental office I have ever been to. So amazing with my 2 and 6 year old. Always so helpful and explain everything in so much detail.... read more Actually enjoy my teeth cleaning now!

Amanda Scales


11/28/2020

Andrea and her team never fail to take excellent care of me, from first contact—making my appointment, to cleanings and exams, through processing my insurance. They are always professional, but... read more still make my dental visit fun and friendly. I'm confident the care I receive and work done is performed safely, with the most up-to-date equipment and techniques, of highest quality and aligned with my goals and values about my dental health. I never hesitate to recommend Suter Brook Dental to friends and family for the best of care. They're simply the best.

Janice Manson


2/17/2021

Really like this Dentist place. Everyone there is so friendly. Have had the privilege of having Mike as my Hygienist for the last 3 cleaning and check up... read more visits...he is great...very gentle and calming, explains what he is doing, and gives tips on how to make teeth brushing more effective. I have had a few different things done here over the years, from Invisalign, to a crown and replacing old fillings that have cracked, some of which aren't the most pleasant experiences, but the people at Suter Brook Dental make it as seamless and painless as possible, even the needles you get to freeze your mouth before a filling! Gone are the days of my childhood that I was a stiff as a board, had white knuckles and was sweaty just thinking of a dentist appointment. Amazingly, I am rather calm now...thanks to everyone at Suter Brook Dental!

Trish Dallas


3/19/2021

I've been coming to Suter Brook Dental for as long as I can remember. I actually look forward to my appointments because the staff is so nice and comforting. I... read more even moved to New Westminster but I still travel to Port Moody because they're worth the trip. My dad was also a patient of theirs and when he passed away, they actually sent me a beautiful bouquet of flowers! That meant so much to me. It's little things like this that make this such a great office and I highly recommend them if you're in the market for a new dentist.

Kayla Ziefflie


2/28/2021

Dr Andrea is awesome. She has that quiet confidence that lets you know everything is under control. CDS Kara is also very knowledge and skilled at what she does. From everyone... read more in reception right through to Dr Andrea, it's Expert care and Great service - always with a smile. Good customer experience - 5 Star.

Brian Ducey


12/07/2020

I've been a client at Suter Brook dental since the beginning. Andrea and the entire team are an amazing group of professionals. They are all extremely knowledgeable and skilled and... read more I always have a fun experience when I visit. I would 100% recommend them to anyone looking for a Dentist. Suter Brook Dental Group has to be one of the best dentists in all of Tri-Cities in my opinion! 🙂

Carleen Ferguson


12/07/2020

I was a patient here for years and sadly had to move away. My new dentist couldn't believe how great my dental work was in my mouth done by Suter... read more Brook.. I have since moved back into port moody and happily returned to be a patient! The technology at the office is cool they scanned my teeth and showed me areas of concern that i had never seen before and explained everything. Loved my Hygienist who was new to the office but it was great to see all the old faces again too! Highly suggest this office

Aaron Mcqueen


11/16/2020

We absolutely love Suter Brook Dental, and recommend them all the time! We have been taking our kids to see them since they were babies, and they've always been great... read more with the little ones. I've also done Invisalign through Suter Brook and Dr Andrea is the best of the best! I just can't say enough good things about our dental experience here...we will be customers for life!

Chelsea Smith


1/28/2021
When was your last visit?
Take Care Of Your Oral Health & Book Your Dental Hygiene Appointment Today.