Dr. Dernisky and her caring and committed team of dental professionals deliver excellence in dental care and patient comfort during each and every appointment.
We ensure that every aspect of your dental experience is positive and that you receive quality care throughout your entire appointment. We work WITH you, to help you achieve optimal dental health and an attractive smile. We listen to you because we care.
If there is ever anything that we can do to make your time with us easier, just tell our team. Your comfort and peace of mind are a top priority with us.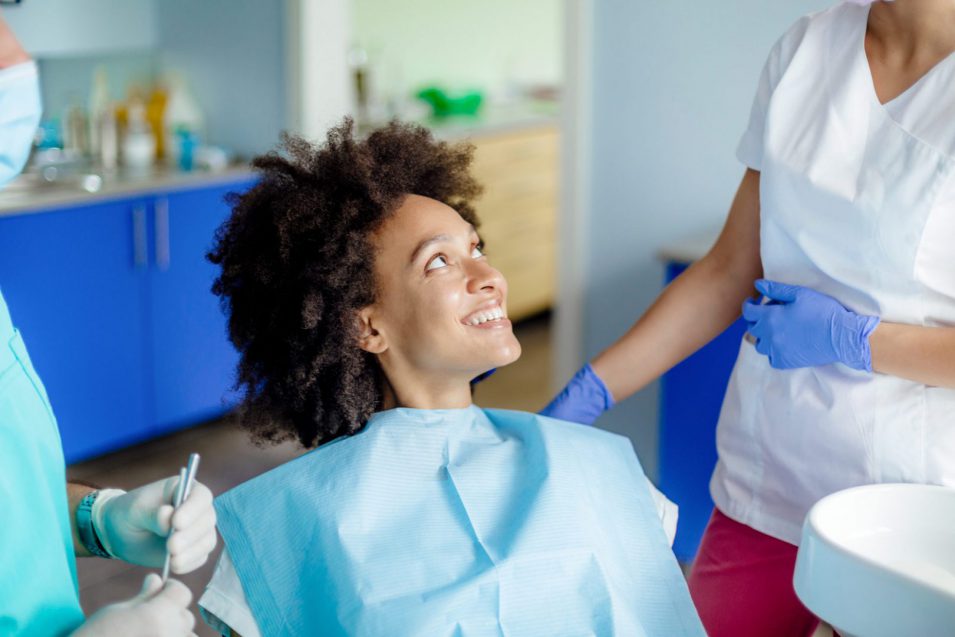 Dr. Andrea Dernisky
General Dentist, Owner
The tri-cities has been home for Dr. Andrea K. Dernisky since 2008, a community she is proud to live in and serve while raising her three beautiful children, Arshan, Aran and Arya. Born and raised in Surrey, British Columbia, she spent five wonderful years in the Annapolis Valley in Nova Scotia and returned home to complete her Doctor of Dental Medicine from the University of British Columbia. She immediately started her own practice here in Suter Brook Village with a keen eye to expanding her scope of cosmetics and orthodontics within her family practice. Currently, she is one of only three Diamond GP Invisalign providers in British Columbia and has successfully transformed over 750 smiles over the past decade. By far her greatest accomplishment has been the genuine relationships established, and laughs shared, between her team and the thousands of patients that have come to be part of our extended family.
Andrea's fundamental belief is that when we establish a strong foundation, teeth will behave better, require less dental work, and ultimately last longer. She is passionate about educating her patients with help of 3D visualization tools, highlighting each person's unique factors that have precluded them from obtaining optimized oral health. With the patient's unique set of values, functional and cosmetic goals in mind, she strives to develop comprehensive treatment plans that will leave them delighted with the outcome. Andrea then uses a myriad of restorative options ranging from chairside fillings and veneers to crowns and bridges to give each patients a smile that allows us to achieve our collective core goal – creating healthy, confident smiles for every patient.
Anyone who knows Andrea, is acutely aware of her love for people and for her chosen profession. To this end, she never stops pushing the envelope further. Whether it is through mentoring colleagues alongside her partner, being an active member on the board of directors of the American Academy of Clear Aligners, lecturing on the perils of malocclusion, or helping trial and develop new technologies with Dr. David Penn to better serve the changing needs of her patients, her passion for dentistry and helping others has no bounds.
Dr. Irwind Bhatti
General Dentist
Dr. Bhatti received his Bachelor's of Dental Surgery in Cairns, Australia or also known as "the land down under." Irwind has a background of working in rural and Indigenous communities focusing on all aspects of dentistry. He has obtained certification in Oral Sedation and Nitrous Oxide, which helps patients who are nervous become more relaxed in the dental chair. He also is an active member of the British Columbia Dental Association and continues his efforts to provide dental education to the community. Dr. Bhatti focuses his work on dental fillings, crowns, root canals, tooth removal, and most importantly, preventative care. He prides himself in doing work that is honest and thorough. When Dr. Bhatti is not at work, he spends his time working out, spending time with family, and helping coach at his local highschool. He is a strong advocate in providing guidance and information to the youth in the city. Whether it comes from coaching basketball teams, or working on his own podcast, Dr. Bhatti is a pleasure to be around!
Dr. Farinaz Poursoltani
General Dentist
Dr. Farinaz Poursoltani began her higher education with a Bachelor's of Science Degree at the University of British Columbia. With a keen interest to pursue a career in healthcare, she went on to receive her Doctor of Dental Medicine degree at the University of Sydney. In her final year, she worked and lived in rural Australia, providing care for those with limited access. After graduating in 2018, she returned to Vancouver to settle back into the city where she grew up.
Dr. Poursoltani enjoys all disciplines of dentistry, in particular endodontics, prosthodontics, restorative and cosmetic dentistry. She is a consummate student of dentistry participating in continuing education courses in order to keep up to date with the newest techniques, materials and advances in dentistry. Thus allowing her to provide optimal and evidence-based treatment for her patients.
Dr. Poursoltani is a motivated and empathetic dentist that prioritizes patient comfort and patient education. She is committed to ensuring, not only, that her patients receive high quality comprehensive care, but also that they have a positive experience.
Away from the office, Dr. Poursoltani loves spending time with her friends and family, while making the most of Vancouver's beautiful seawalls and hiking trails. She likes to stay active through hiking, tennis, snowboarding and exploring new restaurants. In addition, she enjoys volunteering locally through dental outreach programs in Vancouver's DTES.
Dr. Farinaz Poursoltani proudly offers Invisalign, as well as botulinum toxin for facial aesthetics and therapeutic pain management. Dr. Poursoltani has received extensive hands-on training in the field of facial rejuvenation at the Pacific Training Institute for Facial Aesthetics.
When was your last visit?
Take Care Of Your Oral Health & Book Your Dental Hygiene Appointment Today.