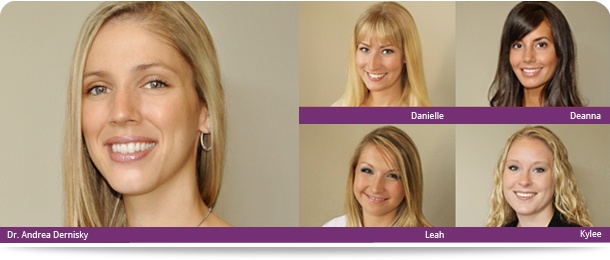 Dr. Andrea Dernisky
Dr. Andrea Dernisky is a graduate of the UBC School of Dentistry. She retains tight ties with the Dental School, and from time to time is asked to provide mentoring for dentists in training there. Dr. Dernisky has also received advanced training in Invisalign Clear Braces technology.
Andrea has an artistic soul and perfectionist personality.  She loves nature and coaching baseball, and is a "mompreneur" who is committed to being there for her family and community. Above all, she has a profound belief in enhancing and transforming the smiles and lives of her patients.
The Suter Brook Dental Professional Team
Office Manager Kylee Lister and the team of dental professionals at Suter Brook Dental strive to make your experience comfortable and efficient.
We routinely receive complements from our patients, and we look forward to getting to know how we can serve your needs and aspirations.